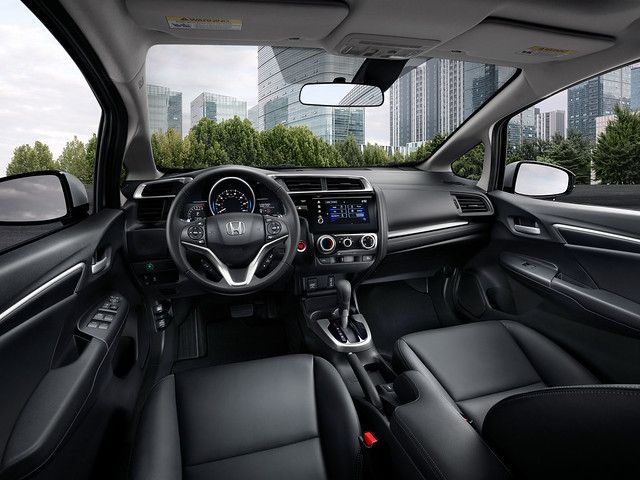 Honda wants you to feel confident when you're behind the wheel of its vehicles. That's why many of its models come available with Honda Sensing®. This suite of safety and driver-assistance technologies gives you the tools to help you be more aware of your surroundings when you're driving. It comes standard on a range of models, including the 2019 Civic, and is standard on the 2019 CR-V EX, EX-L, and Touring trim levels. Here is a look at the technology Honda Sensing provides you.
Collision Mitigation Braking System™
The Collision Mitigation Braking System™ (CMBS™) looks ahead of you and detects possible front-end collisions. This technology uses a radar transmitter that is on the Honda's front grille and determines the distance and closing speed of obstacles in front of you, including another vehicle or a pedestrian. It reduces the likelihood of a front impact by sending visual and audio warnings to the driver to apply the car's brakes. If the warnings aren't heeded, the system applies your vehicle's brakes to help avoid the collision.
Traffic Sign Recognition
Don't worry about forgetting the speed limit on a certain road again, thanks to the Traffic Sign Recognition (TSR) system. This technology sees and remembers the road signs your Honda passes, reminding you of the speed limit at any given moment.
Contact us at Fox Honda if you have any questions about Honda Sensing®.
Road Departure Mitigation System
Through a windshield-mounted camera, the Road Departure Mitigation System (RDM) detects road markings and works to keep your Honda in its respective lane. It can detect a variety of road markings, whether it's yellow lines or white lines, and can work when you're traveling between 45 mph and 90 mph. If you deviate from your lane, this system will give you a visual cue and vibrate the steering wheel; if these cues are ignored, an audio cue will also be delivered.
Adaptive Cruise Control
If you're using your cruise control, Adaptive Cruise Control (ACC) will mirror the speed of the vehicle in front of you. That means if the vehicle you're following slows down, the ACC will activate the brakes and do the same.
 Lane Keeping Assist System
The Lane Keeping Assist System (LKAS) works to help your vehicle stay in the middle of a detected lane and will let you know if your Honda is leaving its set lane. It does so by utilizing the same windshield-mounted camera as the RDM system to detect lane markings.
Stop by Fox Honda to learn more about the Honda Sensing® Technology.  Call us today to schedule a test drive on one of the many models that have the Honda Sensing Technology!
Source: https://automobiles.honda.com/sensing
Hours
Monday

8:30am - 8pm

Tuesday

8:30am - 8pm

Wednesday

8:30am - 8pm

Thursday

8:30am - 8pm

Friday

8:30am - 8pm

Saturday

9:00am - 5pm

Sunday

Family Day!